Luna features made-to-order artisanal pizzas cooked in an 800 degree brick oven. In addition to organic tomato sauce and fresh mozzarella, our selection of toppings highlights by fresh and local ingredients.
We offer a wide variety of delicious appetizers including meatballs in pomodoro sauce , a cheese and olive plate featuring house-made crackers, and fire-roasted mushrooms with herbs, truffle oil, and Aleppo pepper (pictured above).
We're also offering lovely desserts including burnt sugar crema, limoncello cake, and tiramisu in individual servings or for the table (pictured above).
Host your event with us!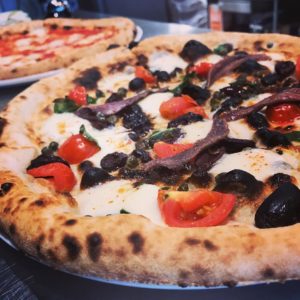 Need a special place for a special event? email us at lunapizzacafe@gmail.com
Want to keep up with Luna? Follow us on Facebook and Instagram or subscribing the LunaLetter. If you'd like to buy some Luna gear, we'll be rolling out various products as we get our feet under us. Right now, we have shirts available, but more Luna products are on the way.